If you love mantas...
We choose to go in January because it is during the manta mating season which runs from December to April. This coincides with the trade wind season. The heaviest rains tend to occur in the summer months. The transitional months of May, June and November are considered peak typhoon season and one of our guides said this is when the mantas are moving from one side of the island to other and are a little harder to find.
Manta Ray Bay Hotel
We were met by the staff at the airport and bags were loaded onto one flatbed and divers into the coach. Since we arrived around 9pm the driver gave a quick rundown on the operation, hours, etc, as we were transported to the hotel, maybe a 15min drive.
The hotel sits on the bay and is a fairly compact property. It has a small pool, sunning area, it's own brewery and the dinning facilities are aboard a refurbished Junk. That said everything you need is just steps away from your door. Each room is named after a sea creature, ours being the Chromodoris room with appropriate photos and even Chromodoris bed covers. The room was nice, well maintained with two queen size beds, plenty of storage and an ocean view.
Our package included breakfast with all other meals being separate. We ate almost all meals aboard the hotels unique floating restaurant the SV Mnuw. The service was friendly and the staff all knew our names by the second day. The menu is sufficient, the meals were Western in nature and you never went away hungry.
Dive Operation
Upon arrival you will have a large open locker with your name on it. This is where you stow wetsuits, fins, BCs, etc. It is indoors and locked at night. Outside there is a large white board that will list your dive buddies, your boat, crew and destination/s for the day. All diving is done from skiffs which take about 6 people each. You set your gear up once and then break it down at the end of the day, rinse and hang it for the night. After the 1st day the crew will set it up and load it on your boat for the day so all you do is deal with your wetsuit, fins and mask.
For the photographer there are excellent camera "stalls" with outlets for charging, desk laps for lighting and a locked storage cabinet where you can leave your housing rather than haul it back to the room. The crew was very familiar with handling and dealing with cameras. One minor issue is there are no rinse buckets on the skiffs for dipping housings between dives.
The Diving
First the weather. It was very windy and rainy upon arrival and stayed that way up until our last day. This limited the diving to inside the protecting reef. The other issue was visibility which ranged from 10ft to 30ft at the manta cleaning stations in Mi'l Channel.
We typically do live-aboards where 4-5 dives per day are
standard. At Manta Ray Bay many people only seemed to do the two morning manta dives. Freddy the manager was happy to accommodate us when we expressed our wish to do 4 dives per day. But given conditions we dove the same 3 spots every day, Mi'l Channel for mantas, Slow and Easy reef which was standard reef ranging from 15ft to 60ft and Rainbow Reef home of the psychedelic Mandarin fish. Often we were the only two on the skiff which was fine by us.
Mi'l Channel
This is where the manta's come in for their cleaning. While viz was low the manta action was great! Mantas showed up every dive and would come in so close you had to fight the temptation to reach out and touch them. Your two morning dives are done in this spot. There were typically mantas in the area for a good 20minutes of each dive. We always saw at least 4-5 mantas over a 40min dive and on one occasion I counted at least 11 that went by in one long line. If you are as fascinated with these creatures as we are this is well worth the trip!
Slow and Easy
This is a decent reef with plenty of angels, pipe fish and all the usual subjects in the sand. The boat would drop us in at one end then pick us up at the other after a nice leisurely 70min or more dive. There were some very friendly reef squid that typically hung around the exit mooring along with a well known mantis shrimp.
Rainbow Reef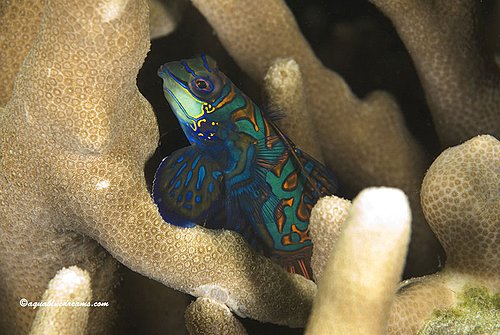 We were very excited to have a chance to dive this spot. It is home to one of our favorite fish, the psychedelic Mandarin fish. This is done as a dusk dive since this is the time they come out of the coral to feed and mate. The diving is shallow no more than 20fsw so you can stay for quite awhile. The dive guides said the best way to do this is find a big male and just follow him around. He will introduce you to all the others in their area as they feed and look for a little romance. There are plenty of subjects and once they got use to your presence, which only takes a couple of minutes, they would go about their business as if you weren't even there.
The Outer Reefs
It was not until our last day it calmed down enough we could dive the outer reef and even then it was a little bouncy but well worth it. After a week of 10-30ft visibility inside the reef the +100ft viz outside the reef was amazing. The reef is healthy and just packed with wonderful hard corals all sorts of schools massing above. This is a drift dive and along the way you are treated to a variety of angel fish, schools of barracuda, bump head parrot fish and plenty of sharks. We only wish the weather had cooperated more so this could have been our final two dives everyday.
In the End
Without a doubt the major attraction here are the awe inspiring mantas. To watch them glide in one after another, mere feet away is an experience that all can savor. Yap and it's mantas are a destination worth going to in itself but defiantly should be combined with any trip to Palau or other memorable destination in the area.