Thailand and the Similan Islands
Th

ailand is synonymous with exotic and for good reason. Over the years we have had the opportunity to travel to there on several occasions and savor it's unique culture, lush countryside along with its incredibly friendly and warm people. This would be our first trip to the Similans and the only diving we had done in Thailand was 15yrs previously in the Koh Samui/Koh Tau region.
When looking at a live-aboard, we prefer vessels that take smaller groups, are relatively comfortable and that cater to more experienced divers. After searching the web we contacted John at Siam Dive n' Sail, http://siamdivers.com With the Similans, you have to be careful because there are a lot of cattle boat operations. John was great on narrowing down the choices. In the end we choose a 5-day 6-night trip on the MV Philkade; it turned out to be a great choice.
Hotels There and Back
Like many of you when planning dive vacations "dry-land" tours of the country of choice tend to suffer due to limited time. The great thing about Bangkok is you can see most of the main sights easily in 2-3 days. Most hotels can arrange tours and for about US$50.00 you can arrange for a private guide for the day. Well worth the money to learn the long and fascinating history of the palaces, temples and markets. Thailand hotels are a deal compared to their USA contemporaries. You can stay at a 4-5 star hotel for the price of a midline US hotel. We can recommend all the hotels we stayed at. Each was well maintained and had wonderful staff to see to your needs. We found the following website helpful in booking at a discount and finding space when the hotel/s said they where booked up: http://www.fivestaralliance.com
In Bangkok we stayed at:
The Plaza Athenee http://www.lemeridien.com/thailand/bangkok/hotel_th1842.shtmlthen
On the way home the Shangrai La
http://www.shangri-la.com/bangkok/shangri-la/en/index.aspx
In Phuket we really enjoyed our time at the Crown Plaza and have to say it is now one of our favorite hotels. http://www.phuket.crowneplaza.com/
Aquamarine Adventures and the MV Philkade
http://www.philkade.com/home/philkade.html
The jumping off point for most Similan live-aboards is Phuket, about 1hr flight south of Bangkok. After getting our bags, the Philkade had a driver waiting to take us to the office. We were welcomed by Austin the Dive Master, (yea baby he's a Brit, and Arraya one of the owners. We filled out the standard paperwork, presented dive cards and waited for our shipmates. In the end we had 8 shipmates. A gregarious family of 4 from England, a German/French couple also residing in England, and Danish couple who had just taken part in setting a World Record for formation skydiving with the help of the Thai Air force. Bags were sent ahead and we all walked to the pier to board the MV Philkade. As we walked up the first impression of the vessel was WOW! This is the kind of ship you picture in the harbor of Monte Carlo. The MV Philkade is only 4yrs old and was built as a private luxury yacht. It was converted to a dive vessel two years ago. In everyway the Philkade is built for comfort. She takes a maximum of 13 divers. You board the Philkade in the evening. After moving in you can set up your dive gear, bags are stored and the standard briefings take place. Dinner is served and all mingle before retiring below decks to rest for the morning's first dive. During the night the vessel makes for the first dive site.
Dinning and Misc. Life on the Philkade
We felt overall the food on the Philkade was good to excellent. There is your standard continental breakfast available at 6:30am including coffee, juice, wonderful fresh fruit, cereal, etc. Then breakfast was served buffet style in the main salon, as was lunch. Thai dishes were mixed in with all the western standards. So for breakfast you would have a choice of eggs or fried rice; lunch Thai dishes, fish or grilled chicken. Dinner was always a sit-down meal served by the crew. Water and Orange juice were always available, pop, beer, wine were extra and tallied on the honor system. The fresh fruit was abundant and excellent. I can't say enough good things about the crew they were fantastic. Always on the spot to pick up gear, help you into your BC and always with a smile. You are provided numbered "inside" and "outside" towels which. On the stern has a well thought out rack with clamps for drying "outside" towels between dives. If you want your towel washed you put it in a basket in your room and it will be washed. We had a Superior room, which was beautifully appointed, with your own air-conditioning control, a double sized bed which was comfortable. It came with a large private head and there was always ample hot water for showers. Note, if you are over 5'10" tall, your feet are going to hang over the end of the bed. Since the boat was originally designed as pleasure craft storage is adequate but a bit less than some purpose built dive live-aboards.
The Daily Grind
Each room has a phone and at 6:30am you receive a wake up call. There is your standard continental breakfast available. The first dive briefing takes place at 7am and you're in the water by 7:30. Following dives go in at 10:15, 2:45pm, and 5:45pm. This schedule worked out fine as most of the dives where in the 60fsw -90fsw range. As on most live-aboards once your gear is set up you don't touch it again. You have a bin under your station for storage of gear. Racks are above your station for hanging wetsuits. Nitrox and testers are available. Given the dive profiles, Nitrox is the way to go. Dive briefings are to the point with site diagrams provided on a white board. There are always two dive guides, Austin and T. (Note: since most Thai names are very long and hard, for Westerners, to pronounce all the crew truncate their names) With only 4-5 people per DM the diving is quite enjoyable. Dives start equally from the Philkade's swim step or its two zodiacs. Since most sites have some form of current the majority of dives end with pick-ups by the zodiacs. Hand up your weight belt, take off your BC and then the standard kick pull yourself up onto the inflatable portion of the rib. All are issued dive sausages on a 20ft string. If you are separated from your DM these can be deployed while doing your safety stop. The zodiac drivers are quickly on the spot to pick you up.
Once Austin and T were comfortable with your abilities, there was the opportunity to do your own thing, to a degree.
For the Photographer
The crew is very familiar with housed cameras and handle them with care. There was a large rinse bucket and fortunately I was the only one with a DSLR. There was a 3-tier camera table, which at most could accommodate 2-housed DSLR units. Austin said they set up crates with rubber mats on top when dealing with multiple systems and are considering adding more work areas on the next refit this year. All charging is 220v and I suggest bringing a power strip since there is not a dedicated charging station. In addition next time I will bring a "camera towel" for drying off when changing ports and lenses. While not specifically catering to the camera crowed I look forward to diving the Philkade in 07.
Dive Sites
http://www.siamdivers.com/sites/similan.htm
The Similan islands have that unique look we have only seen in the South Pacific. Rounded granite boulders that have been worn away be time and weather. They seem to be impossibly balanced on each other in astounding formations. This topography carries through underwater at many sites. Almost all sites are covered in amazing soft corals and anemones of many colors. Some sites like Elephant Head Rock are all about the swim thrus and amazing reefscapes. While others like East of Eden and the famous Richilieu Rock for their amazing range of flora and fauna. These sites are blanketed in anemones and soft corals of every hue. Creatures range from amazing ornate ghost pipe fish to sharks, schools of barracuda and manta rays. To date Richilieu Rock ranks as one of our top three dive sites ever! We had the good fortune to dive it 4 times and lobbied to stay there another day. It was covered in glass sweepers so thick they almost became a nuisance. Manta made appearances and schools of barracuda encircled the site. Given the nature of the sites and the creatures staying within sight of the DMs is advisable. They know where everything from mantas to ornate ghost pipefish can be found.
Reality is these sites can get crowded. There was typically 3-5 other live-aboards at each site. The Philkade crew did a fantastic job at timing our entries to minimize our contact with other divers; it was the rare occasion we ran into Cozumel like massings. It was amusing/horrifying to watch some of the other live-aboards dump +25 divers in the water like skydivers bailing out of cargo plane. One vessel had a "ladder" that ran the complete width of the stern like a cargo net for their divers to crawl up.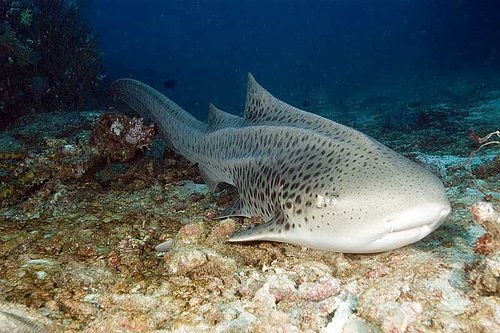 In the End
We were already enchanted with Thailand and now we have one more reason to keep visiting this incredible country. We so enjoyed our time with on the Philkade we are in the process of planning a trip on her to Burma for 07. Going to the Similan Islands is like visiting any of the great museums to see your favorite artist; yes at times the crowds can be annoying, but they can't diminish the beauty of the art.