Africa, 4 countries in 3 weeks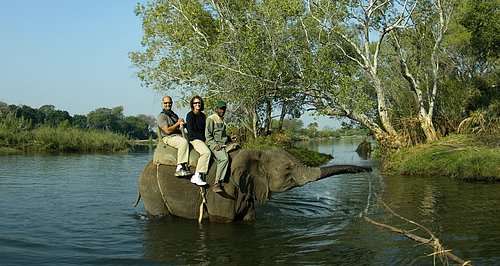 Let me start with a few thank you's and general statements.
First a giant thank you to Renee Mills, (now passed on) better known as Mama Africa, our travel agent. Our trip spanned 4 countries; 14 flights; boats; a variety of 4x4 vehicles; one elephant and each went off without a hitch.
For Background
We are active people and to date most of our vacations have been dive trips were we spend 6-7 hours per day diving. In addition we are avid amateur photographers. We typically choose smaller operations that can give more custom service. We are willing to "rough it" to a point as we are making an effort to go to hard to get places that might be a little less traveled.
In General about Game Drives and Lodges
We would consider almost all the lodges we stayed at solid 3-4 star locations. As stated earlier the service we received at all locations was fantastic. Meals are usually a mix of buffet and sit down served by staff. Breakfast is almost always buffet, lunch can be either and dinner is often served by staff. Food was "western/European" in nature. But if you are a meat eater Impala and other local animals were on the menu. The food at all locations was very good to just over the top!
Daily Routine (typical)
Breakfast: 6-6:30am
Game Drive: 7-11:00am
Lunch: 11-1:00
Relax: 11-3:00
Tea/Snack: 3-4:00
Game Drive: 4-7:00pm
Dinner: 7:30
At some locations the guides stop half way through your morning drive, set-up a picnic table and tea, coffee and fresh backed items are consumed. In the evening you would stop to sip gin and tonics while watching the sun set. There are walking tours available but you typically see less game on these than you do from the truck. To animals we seem to be more worrisome and smeller on foot than in a 4x4.
Bugs were not much of an issue on the trip. Typically we see more mosquitoes in our own backyard then we did anywhere on this trip. BUT you should put bug repellant on every day as Dengue Fever and Malaria are issues. We often use Jungle Juice from REI which is 99% DEET (http://www.rei.com/category/4500560) but this time we used a spray on product called Ultrathon which worked great.
Stuff to Bring
Pack light! If you are going to be mainly at game lodges the dress is casual, shorts and t-shirts. But you can dress up as much as you like. Everywhere we stayed offered laundry service which we used 2-3 times over a three week trip. During the day the temps were in the 80's but the temp quickly drops into the mid to low 60's as soon as the sun goes down. I typically wore long pants on the evening game drive and long pants and long sleeved shirt to dinner.
For guys the following will cover you for a 2-3 week trip.
Two pairs of the "convertible" pants. (the legs zip off to make shorts)
One pair of nylon swim shorts
Four t-shirts. I have a lot of "quick dry" shirts and these worked great
2 long sleeve shirts. I broke down and bought two ExOfficio style shirts
1 long sleeve fleece sweater. I wore this several nights to dinner and on the plane
One pair of decent running shoes or walking shoes
Sunglasses
One or two hats
Socks and such I will leave to your discretion
Bug Spray (we only used one bottle between two people and most lodges have bottles in your room)
Power converter (for South Africa many charts show a three square pin plug. Most of the plugs we saw were three round pin plugs)
We read that you don't want to wear dark colors, no blue, no bright patterns, etc… Well don't feel you have to rush out and buy a bunch of green and brown wear. The animals are much more sensitive to movement and voices coming from the truck. I would avoid blue because in some areas it is said to be a favorite color of Tsetse Flies.
For the Photographer
I am an avid amateur photographer and my wife likes to shoot video www.aquabluedreams.com. Being our first trip we planned to just go along with the standard operation and see how that worked for us. This was reinforced when I overheard a group complaining about "a tripod guy" who they felt imposed his agenda and gear on everyone else.
Game drive vehicles in the areas we stayed all had three rows of seats, 3 people per row for a total of 9 people. Each row is raised like in a movie theater. All had open sides with armrest for the people sitting on the outside. Each had canopies that were nice for keeping the sun off. The armrests are at a level you would have to lie on your stomach to use them as a support for shooting off a bean bag.
For this trip I packed:
2xNikon D200
Nikon 200-400 f4 VR
(Was happy I bought a lenscoat for this lens)
Nikon 18-200 f3.5-5.6 VR
Nikon 17-55 (used mainly for underwater shots)
Tokina 10-17
Nikon 1.4 Teleconverter
Manffroto Monopod
(Due to packing my underwater housing and misc. junk, weight was an issue for us. If weight is not an issue for you then it might be worth bringing a tripod but in most cases the monopod worked fine.)
I did not buy a bean bag as suggested but this turned out not to be an issue. Typically in the morning I would go with the 200-400 & 1.4 teleconverter. On the evening drive I would drop the teleconverter due to the lower light situations. The second body had the 18-200mm on it 99% of the time. On review +65% of the photos I took were with the 200-400 and 35% with the 18-200, often at the 100-200 range. So in a perfect world the Nikon 70-200 f2.8 would be a great lens to have on a body with a few swaps to something smaller than 70mm. The 10-17mm was used for maybe two dozen shots in the field and a few more for Lodge shots.
Shooting From the Truck
The fact is the 200-400mm lens is big and difficult to impossible to use if you are in the middle seat. Everyone paid to be there and I can't rationalize sticking my lens in your face. So without a doubt you want to be in one of the outside spots. We were very fortunate and 90% of the time we only had 6 people per vehicle allowing Julie and I to share a row keeping extra cameras and gear on the seat between us.
Reality is there will be at least one other enthusiastic photographer in truck and almost everyone has some form of camera. The guides are excellent at putting you in a position to take as good of a shot as conditions allow. In fact we had one guide that was so aware of how things would be lit that we would actually have to tell him to stop to take photos in less than perfect conditions. In some areas they must stay on set paths and you just have to deal with it. Have no fear to tell the guides to STOP, move forward 4ft, back 2ft, etc… You just have to be aware that others are trying to get their shot.
Given the above I think a tripod would be limiting and impossible to use in many situations. We watched one group being charged by elephants from behind. The one shooter that had some kind of fixed quick release setup missed all the action. If you are a serious shooter and want to go at your own pace pay the extra to have your own truck and guide. Once in the camp you can almost assuredly find anther photog to split the costs with. But you will have to plan ahead as many camps have a limited number of vehicles.
Dust is an issue. Pack a couple of brushes for dusting off lenses. I split a pillow case down the long seam to use as a dust cover for the 200-400 set-up and never used it. Dust may be a bigger problem in other areas.
South Africa
We purchased this part of our trip at a charity auction and it was the catalyst that finally got us to Africa. This was a package deal with airfare, lodging and game viewing with the Zulu Nyala Group. When we met with Renee, our travel agent, she was very honest and said this was a nice group but maybe "a little slow" for our taste. We actually cut 2 days from the package and added it else where.
We flew Seattle-London-Johannesburg-Richards Bay where we were met by the Zulu Nyala driver. About 8 of us piled into the van for the +1hr drive to the lodge. Given all the travel most of us were out after about 5mins.
Zulu Nyala Group
This group has five properties, 4 within their private game park in the Zulu Natal region. Zulu Nyala Game Lodge is a large lodge with a very nice restaurant/bar area and pool. Rooms are equivalent to decent hotel rooms in the west.
The Heritage Lodge is a medium sized hotel with nice grounds. These seems to be the most "westernized" of their properties. On the grounds they have the Heritage Tented Safari Camp. But just from outward appearances this would have been our last choice of their properties.
http://www.zulunyala.com/index.htm
We were booked into the Nyati Lodge which is the smallest and most intimate of their properties. Upon arrival we were informed they were having issues with the electricity and water and they were going to check us into their larger facility the Zulu Nyala Game Lodge. Fine, we are in Africa, stuff happens. The next day when we inquired we were informed the power problem was solved but the smaller lodge was overbooked and we might have to stay at the large lodge. Very nicely we made it clear we booked this trip two years ago and we were confident they would be able to get us into the lodge we had paid for. When we came back from that mornings game drive our bags had been moved to the "Honeymoon Suite" as promised.
The "Honeymoon Suite" at the Nyati Lodge is the room they show at their website. It is a fantastic room and we really enjoyed it. Water pressure was questionable at times but this was a very minor issue. Meals were all buffet and quite good. The weather permitted us to eat outside with everyone seated at one long table. Our campmates were a great mix and after everyone dipped into the "honor bar" some hilarious stories were shared.
Our game guide Norman was wonderful. To call him just a game guide does not do him credit. They work with you on the optional trips available, help you with the ATM in town and are there to help in everyway. What Norman did so well was not just tell you what something was but what was the animal or plant's relevance to the local people. It really brought home how tied into nature the people are.
This game preserve is private and while there we saw rhino, hippos, impala, nyala, zebra, elephants and more warthogs than we saw on the rest of the trip. One group even saw a baby giraffe being born. One down side to this location is being private and fenced so they don't have any cats even though their brochure shows them.
Bazaruto Island, Mozambique
As mentioned we are avid divers and the focus of this part of the trip was to get some diving in. Our original choice was on another island, farther south, but it was hit by a hurricane over the winter and was not ready for guest. Renee moved us to the Indigo Bay Resort and Spa.
http://www.indigobayresort.com
To get to Indigo Bay you fly from Johannesburg to Vilanculos and then a ten minute flight to the island. Upon arrival in Vilanculos, Mozambique you are met by an Indigo Bay employee and they take your Passports and get you cleared thru Customs and get you sorted for the puddle jumper to the island.
The flight into the resort is beautiful. Even with all the diving we have never been in a landscape so dominated by massive sand dunes. The combination of the blue waters and the towering sand dunes is fantastic. As we entered the property we knew we were set to be spoiled. The grounds are lush and tropical but then surround by dunes and sand beaches. All the dining areas open to the incredible views of the ocean and are sumptuously appointed.
Our room rivaled and exceeded rooms we have had in at
hotels including the Peninsula and Shangri La. You had an indoor shower, private outdoor shower, patio, cabana in the shaded trees and cabana on the beach. Need a drink just put out your "flag" or call the bar.
Unbeknown to us Indigo Bay is quite known for their incredible buffet breakfasts and dinners. Your choices were overwhelming and all excellently done. This is one of the few places we have been were even a vegetarian would be happy without any special requests. Lunch was served from a menu with a very nice selection. There were maybe 20 people at the resort and on one night no more than 6. That evening we had to "suffer" thru with a 5 course set menu. Once again the service was impeccable. Every napkin folded if you left the table, every crumb swept up all while you lounged in shorts and t-shirt. For dinner I would "dress up" putting on Pants of all things!!!
Most of the guest we met at Indigo Bay were there to relax and it seemed a popular location for honeymooners. They do have a variety of activities available including sailing, tennis, horseback riding, deep sea fishing, 4x4 island tours and of course diving. We only took advantage of the diving, which is extra and the free island tour. The island tour is worth while as you get a better feel for the landscape and some of the sparse fauna.
Diving
We love to dive and to date all of our trips overseas have been dive trips, typically on live-aboards where you are diving 5 times per day. To be frank Indigo Bay is a luxury resort were you go to relax and "can do some diving" if you choose. To be fair their goal is not to be a dive resort. That said Indigo runs a very competent dive operation. We only brought our computers and masks so we rented all gear there. It was good quality and in good condition. For us Yanks takes are steel and pressure in Bar.
The 27ft speed boat accommodates 6 divers plus the DM, are comfortable and fine for the diving they do. The dive sites are about a 20minute ride with nice views of the islands as you zip along. You do a back roll in and to exit you take off gear, hand it up and then use a small ladder to board the boat.
You do two morning dives with the surface interval being done on a remote sand spit which we found to be really unique. Drinks and fresh baked snacks are provided. Due to a daily tidal exchange of 6ft there is always Cozumel level currents and decent surge in some areas. It is easy diving any anyone can do it. The dive guides say the visibility averages about 30ft year round. Water temperature averaged between 71-74 degrees and I was happy they had 5mm wetsuits for diving.
Julie who runs cold in any water less than 80 degrees brought here fleece sweater for the roughly 20-30minute rides home.
We dove North Point, South Point and The Potholes. The reefs themselves have some colorful soft and hard corals with decent fish life. The topography is "spotty" most of the reefs seem to be swept fairly clean of life on top but the fronts and sides of the formations have plenty of life. There were large schools of tangs, many different species of box fish, angels and schools of anthias. We also saw several Potato Cod, turtles, sting rays and a brief encounter with a Zambezi/Bull shark.
Humpback whales were traveling thru the area and on most dives there songs where the background music.
We cannot say enough nice thinks about this resort. Indigo Bay Resort and Spa is a great destination for a diver with non-diving family members who like to be pampered.
Zambia, Victoria Falls
When we were organizing the trip Renee felt a visit to Victoria Falls was mandatory. Honestly I was boarder-line on this part but once again Renee was spot on. In two days we dinned while watching hippos play, rode an elephant, took an ultra-light flight over the falls and swam to the edge of the 300ft tall falls.
We were booked into the Tonabezi Lodge. Once again as we disembarked from the plane a Tongebezi employee was there to meet us and on the ½ hour drive to the lodge we got great background on the town of Victoria Falls and the surrounding area. The lodge sits on the Zembezi river. Every cottage is private with 180 degree view of the river. 30 feet from our sitting area we had a herd of hippos and we spent hours just sitting there watching them.
Upon checking in you are assigned your own Valet. Mezzi was ours and he was great. Mezzi made sure we were on time for our activities and took care of our cabin. Both nights we returned to the room and Mezzi had prepared bubble baths for us complete with candles and flower petals. http://www.tongabezi.com
The Victoria Falls are a World Heritage site and considered one of the 7 Wonders of the World. In the middle of the river and at the edge of the falls is the famous Livingston Island were H.M. Stanley uttered the now famous phrase "Dr. Livingston I presume?"
http://www.places.co.za/html/vicfalls.html
The falls are impressive and the highlight was our tour to Livingstone Island, swim to the edge of falls and lunch:
http://www.afrizim.com/Activities/Livingstone
This is the actual island that Dr. Livingstone lived on. Bring your swimsuit! At this time of the year the water flow over the falls is slow enough that at one spot, found by a very brave fisherman, you can swim right up to the edge of the three hundred foot falls. No way you could ever do this in the States. In fact the guide will hold your ankles and you can hang over the edge and get one stunning view. Later you relax with another incredible 4 course meal prepared in camp kitchen that had been destroyed the day before by herd of elephants.
After touring the falls I talked Julie into doing a Microlight flight over the falls. Incredible views and an exciting experience, http://www.batokasky.com
Another great activity was the Elephant Game Drive. For two hours you have the opportunity to touch, ride and interact with these amazing creatures. You don't really see many other animals during the tour; the experience is all about being with the elephants. This is a great activity for all ages and one everyone should do.
http://www.afrizim.com/Activities/Livingstone/Elephant_Trails.asp
Some of the other activities available include bundgie jumping and white water rafting. Many people we spoke with raved about the rafting. Some of the stretches are considered among the most exciting in the world
http://www.wildhorizons.co.zw
.
Okavango Delta, Botswana
The Okavango Delta covers over 17,000 square kilometers of some the most diverse biosphere in Africa. The largest inland delta in the world is boarderd by the Kalahari Desert.
This leg of the trip is were your weight restrictions, 25-30lbs/person, come into play as most flight into the Delta camps are on 6-8 seat planes. As you fly in you really get an appreciation for the span of environments in the area. We pass from dry savannah, over fire blanked sections and then bit by bit water enters the view. Soon you are flying over lush green water ways.
Camp Nxabega is in the hart of delta and considered a "wet camp". Nxabega means "the place of giraffes" but it turned out to be home to so much more. Once again the camp exceeded our expectations. The location is an idyllic, the main lodge a handsome mix of local design and luxury appointments. The camp consists of the main lodge, a small gift shop and 9 "tented suites". To call them tents is like calling a Mercedes a car. The tents are on raised platforms and each has a deck to relax on. The inside rivals most fine hotels with a very comfortable king sized bed, plenty of storage, a desk, a bathroom with a large rain showerhead and a outlet for all your battery chargers. Only pictures can really do the lodge and setting justice.
The dining was excellent. Breakfast served around 6:30 was more along the lines of a Continual Breakfast which was welcome from the temptation of all those waffles and pancakes. At lunch a large serving table is set next to your dinning table with a selection 6-7 salads, fruits, main courses and cheeses, it was overwhelming and delicious. Dinner was always sit down with 4-5 courses.
http://www.ccafrica.com
http://www.ccafrica.com/reserve-1-id-2-2
Here you really get a mix of dry game drives and wonderful boat and canoe tours. For the bird lovers this is an especially great location. In the Delta we were fascinated to learn what an important role termites play. Throughout the delta termite formations are the cornerstone of islands being built. But there is concern that they are reducing the wetlands too quickly. Once again our game guide Dux was excellent and went out of his way to accommodate all the photographers in the truck.
Some of the highlights of Nxabega include lying by the pool looking out over the incredible delta as baboons wondered thru the camp. Wonderful game drives that transverse swamp, dry land and wooded areas. Julie and I agree that Nxabega provided us the memory that we will always cherish. One morning after showering I looked up and walking past our tent, not 10ft away, was a male elephant. He wandered into our front yard and just started browsing. I am whispering "Julie, Julie, come here there is an elephant two feet in front of our tent!!!!" Julie replied "I am don't have anything on" and I of course respond "the elephant doesn't care!" Julie threw on a towel and we just sat there as the sun came up watching this incredible creature go about its business undisturbed by our presence, it was amazing. We only hope you get a chance to experience this incredible destination